Heating
There are several options available at the Pines as far as heating. Propane gas heaters, solar heaters and heat pumps are all commonly used. There are pros and cons to all systems. Obviously the benefits of solar heating are utilization of natural energy from the sun and reduced energy costs. The use of a propane heater enables the user to heat the pool anytime they want without dependency on the sun. A propane heater can also heat a pool much warmer than a solar heating system can. Heat pumps are run by electricity and are generally more cost efficient than gas.
Although a solar heating system generally raises the average pool temperature about 10 degrees, enough to "take the edge off", much of the results are dependent on sunny weather. If there is cloudy weather or you prefer to swim at night, the temperature of the water is reliant on the previous sunny weather. A propane heater can heat a pool at any time; however, depending on the differential of the outside air temperature, an exceptional amount of propane may be expended resulting in high gas bills. Heat pumps are energy efficient, but take longer to heat than gas heaters. Heat pumps tend to not be as effective in the early and late seasons as a gas heater.
A popular choice is to utilize a combination of both solar and gas heat, or solar and heat pump. Many people, when not using the pool or away during the week, run the solar heater continuously and cost free. When they arrive on the weekend, they can turn on the gas heater or heat pump as needed. Less propane and electric is used as the solar heater has been working to heat the water during the week.
Systems
Solar -
At this time we only sell and install one type of solar heating system. Heliocol The reason is that I believe they manufacture the best quality solar heating systems available. The Heliocol systems are made of durable individual collectors, which allow for expansion and retraction due to shifts in temperature. Competitors offer less expensive systems, some of which roll out in sheets and do not allow for expansion. These systems are susceptible to cracks and leaks, which can damage the whole system. If a Heliocol collector becomes damaged, a panel can easily be replaced.
Propane -
Jandy and Sta-Rite are the two types of propane heaters available. Both are rated about the same, although the dome shape of the Sta-Rite models are a little more ocean friendly as they can repel wind and salt.
Heat pumps -
The two brands that we sell are Hayward and Jandy.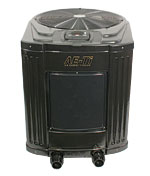 The Jandy heat pump, pictured above, is equipped with a remote control. The remote control can be mounted in the house and can control the operation of the heat pump.